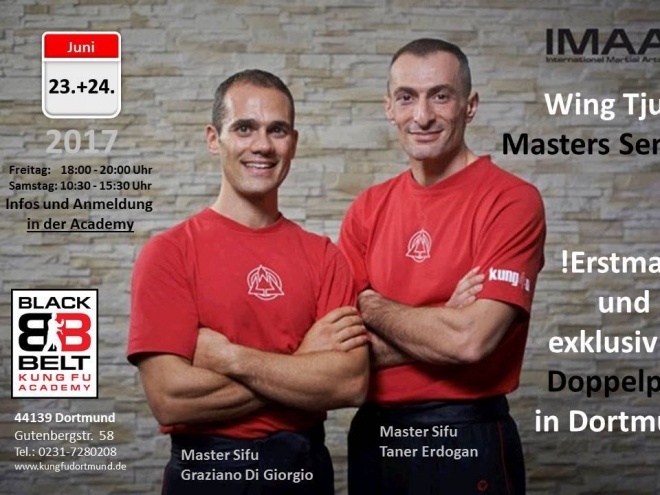 Master Sifu Taner & Sifu Graziano
Master Seminar with Sifu Taner & Sifu Graziano
Wir freuen uns sehr Master Sifu Graziano und Master Sifu Taner Erdogan im Doppelpack für ein Intensivseminar am 23. Und 24. Juni in der Black Belt Kung Fu Academy Dortmund begrüßen zu dürfen.

Das Masters Seminar beginnt am Freitag den 23.Juni 2017 von 18:00-20:00 Uhr mit anschließendem gemeinsamem Abendessen. Samstag den 24. Juni 2017starten wir um 10:30 bis15:30 Uhr. Geplant ist eine Stunde Pause.

Mit beiden Masters bietet sich für die Black Belt Kung Fu Academy Dortmund die erstmalig Möglichkeit, das IMAA Wing Tjun direkt von der Quelle zu lernen und zu vertiefen.

Freue mich riesig auf diesen Event! Ihr auch?

Dann meldet Euch bitte vorab in der Academy zum Seminar und für die Prüfung an.

Das wird wieder ein interessantes Seminar mit viel Spaß und vielen neuen Erkenntnissen.



Ciao Sifu Pietro



We are very pleased to welcome Master Sifu Graziano and Master Sifu Taner Erdogan in a double pack for an intensive seminar on 23rd and 24th of June 2017 at the Black Belt Kung Fu Academy Dortmund.

The Masters Seminar will start on Friday, June 23rd 2017, from 18:00 to 20:00 o'clock, followed by a joint dinner. On Saturday the 24th of June 2017 we'll start at 10:30 to 15:30 o'clock.

An hour is scheduled for Lunch.

With both Masters, the Black Belt Kung Fu Academy Dortmund offers the first time the opportunity to learn and deepen the IMAA Wing Tjun directly from the source.

I'm looking forward to this event! You too?

Then please register in advance at the Academy for the seminar and for the exam.

This will be an interesting seminar with lots of fun and many new insights.